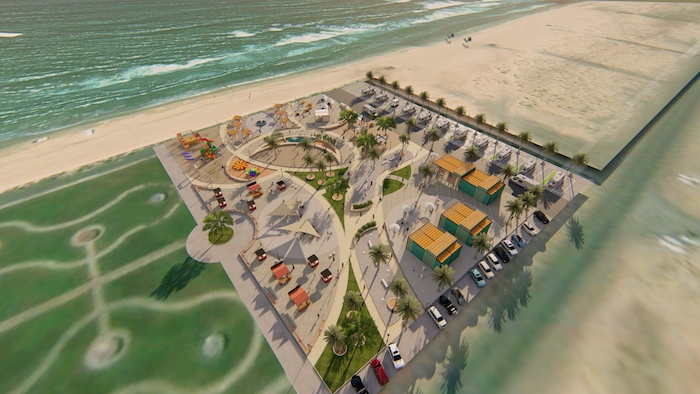 OMRAN Group and South Al Sharqiyah Governor's Office sign pact to develop tourism projects
Oman Tourism Development Company (OMRAN Group) and South Al Sharqiyah Governor's Office have signed a pact to develop several tourism projects in the governorate. The signing aligns with OMRAN Group's efforts to work in harmony with various stakeholders to drive the growth of the Sultanate's tourism sector.
The pact was signed by HE Yahya bin Badr Al Mawali, Governor of Al Sharqiyah South and Eng. Mohammed bin Salim Al Busaidi, Chairman of OMRAN Group, in the presence of several officials from both parties.
Under the pact, OMRAN Group will undertake technical support and oversee the execution operations of the multi-phase projects under development in several destinations in the governorate, where the first phase will see a park development in Al Suwaih with an area more than 65,000 square meters, as well as the development of another park in Al-Ashkharah covering a total area of ​​approximately 14,000 square meters. Both parks will offer a variety of tourist and entertainment facilities, including dining halls, retail outlets, children's playgrounds and campgrounds.
On this occasion, HE Dr. Yahya bin Badr Al Mawali, Governor of Southern Sharqiyah said: "The governorate attracts many local and foreign tourists due to its rich and diverse destinations, which we seek to exploit, together with various parties. stakeholders, to stimulate tourism in the governorate".
"Our collaboration with the OMRAN Group aims to improve tourism services and products within these destinations, which in turn will open up promising prospects and opportunities for local businesses and SMEs in the governorate." Al Mawali added.
Meanwhile, Eng. Mohammed bin Salim Al Busaidi, Chairman of OMRAN Group, said: "This signing is part of the existing collaboration between OMRAN Group and the Office of the Governor of South Sharqiyah, which resonates with our vision and optimistic approach. towards the growth of the Sultanate's tourism sector and the diversification of tourism products and services within the various governorates".
He further stated, "OMRAN Group is a national branch active in the development of the tourism sector, with a proven track record in developing iconic tourism projects.
Through this collaboration, OMRAN will contribute to boosting the tourism sector by bringing the experiences of specialized working groups in the execution of such projects".
It is worth mentioning that OMRAN Group is endeavoring to further explore tourism development opportunities in collaboration with the Ministry of Heritage and Tourism in addition to various stakeholders, this has resulted in meetings held with the offices governors and attended by officials from different entities, who discussed tourism. development needs within each governorate according to its potential.
OMRAN Group, which owns three hotel assets in southern Al Sharqiyah Governorate, Atana Stay Al Ashkarah, Ras Al Jinz Turtle Reserve and Masirah Island Resort, plays a crucial role in enriching tourism experiences by developing iconic destinations which reflect his interest in sustainability, including cultural heritage of the Sultanate.