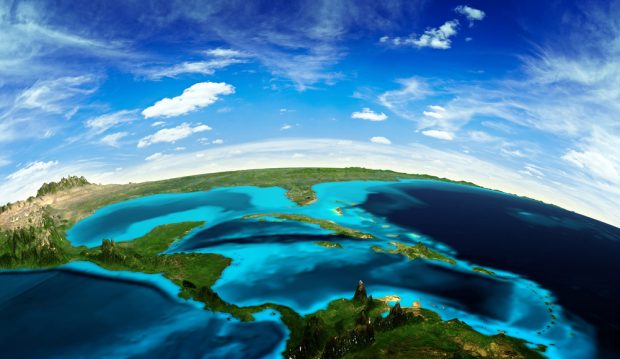 Caribbean credit unions come out of COVID
In the Caribbean, where credit unions have a 65% penetration rate, the leaders of these institutions have faced the economic and governance challenges presented by COVID-19.
Rebuilding a regional economy hit hard by the pandemic, as well as supporting members of credit unions who have lost their jobs, was on the agenda of a recent webinar hosted by the Caribbean Confederation of Credit Unions . The event, "Credit Unions and COVID-19: The Regional Response", brought together the leaders of several member associations of the Caribbean Confederation of Credit Unions (CCCU), which represents 212 credit unions with 2.4 million members in 17 countries. The group members have assets of $ 6.2 billion, a loan portfolio of $ 4.2 billion, and savings of $ 5.2 billion (in US dollars).
Amid the economic dislocation and efforts to help members, leaders recognized that the COVID-19 pandemic presented a hub for credit unions in the region.
The pandemic is "too good a crisis to waste," said Lambert Johnson, senior vice president of the Jamaica Co-operative Credit Union League. "It gives us all opportunities to do our business not as usual, but as unusual business," he said.
Credit unions can help stabilize the region through their role as employers and by continuing to provide affordable access to insurance and financial services, which is in line with the Sustainable Development Goals, according to Andre Vincent Henry, director of Cipriani College of Labor and Cooperative Studies. . He encouraged conference attendees to consider "a very dynamic role for the credit union movement, not only in the COVID crisis but in the new post-COVID normal." In addition to helping build "a new entrepreneurial class of small and microenterprises," credit unions should strive to influence public policy issues that impact members, Henry said.
"We need to move away from just thinking in terms of policy that affects the movement per se and re-thinking and building a new big agenda for the credit union movement, which will include contributions in important policy areas that, all in this will not directly affect individual credit unions or even the credit union movement, would impact the core membership or the grassroots group of people that a credit union caters to, "said Henry.
Speaking to 250 webinar participants, CCCU Board Chairman Winston Fletcher called credit unions "vehicles for social and economic transformation". We do this through the financial inclusion we provide. We give access to financial products to those who are seen as underserved, underbanked, unbanked – we take care of the little man, "he said.
Fletcher said the COVID-19 pandemic presents a "seismic disruption to our social and economic lives" as he announced the league's $ 115,000 donation for the purchase of personal protective equipment for personnel of the credit unions across the Caribbean, as well as doctors, nurses and other frontline workers. "We hope this will make a difference in the lives of our members and society in general," added Fletcher, who is also president of the Jamaica Co-operative Credit Union League.
In Trinidad and Tobago, the government is stepping in to help with funds that credit unions can tap to provide relief to members. According to Joseph Remy, president of the Co-operative Credit Union League of Trinidad & Tobago, the program includes a $ 100 million cash support program that credit unions can provide to their members.
And in Barbados, the Barbados Co-operative & Credit Union League is putting in place criteria to meet the most vulnerable members of credit unions with cash or in-kind grants.
"As you know, credit unions were born out of tough times. And now more than ever, we must ensure that the most vulnerable in our society have the opportunity to live and support themselves and their children, "said Hally Haynes, President of the League of Barbados.
The pandemic has crippled cruise lines and air travel in a region heavily dependent on tourism, according to the International Monetary Fund. The sharp slowdown in economic activity is expected to trigger the region's deepest recession in more than half a century, the IMF said.
But tourism is not the only economic indicator devastated by COVID-19. Commodity exporters such as Guyana, Suriname and Trinidad and Tobago are suffering from sharp price declines, according to the IMF.
Remittances from expatriates, which on average account for around 7% of production in the Caribbean region and exceed 15% of GDP in Haiti and Jamaica, are expected to fall sharply along with the United States, Canada and the United Kingdom in deep recession, said the IMF.
In addition, citizenship-by-investment programs, an important source of income for several Caribbean countries, could decline sharply if investors lose confidence in the quality of health care in those countries, putting further strain on finances, said the IMF.
Henry, of Cipriani College, said the number of people living below the poverty line in the Caribbean would increase due to COVID-19.
"A lot of workers in the Caribbean work for one poverty wage. Besides those living below the poverty line, there are a large number of people who, although not yet classified as poor, are vulnerable to poverty, "said Henry.
Citing the example of Grenada, where he said 2% of the population live in extreme poverty, 38% live in poverty and 15% are vulnerable to poverty. Henry said: "What you really have is 50% of the population of a Caribbean country who are in extreme poverty, live in poverty or are vulnerable to poverty. My question is, with the dislocation of the pandemic, what will be the effect on these population groups?
The challenges of the current environment are particularly acute for small credit unions, noted Haynes. In Barbados, there are 32 credit unions, but a handful of large institutions have captured most of the market, he said. Small credit unions have limited management capacity to comply with international reporting standards and meet more robust and evolving regulatory standards, as well as a limited product offering to attract new members and put more money into. existing member portfolios, said Haynes.
The League of Barbados has launched a shared services initiative to help small credit unions meet internal audit and compliance requirements, with a focus on anti-money laundering and anti-money laundering standards. terrorism, said Haynes. But implementing services like credit and debit cards, online and mobile banking remains a challenge, he said.
The pandemic has given new urgency to the efforts of the region's credit unions to seek relief from some regulations.
Johnson said the Jamaican League had asked regulators for permission to allow credit unions to waive the payment of an annual dividend this year and reduce the country's liquid asset ratio from 20% to 17%, a decision that will free up a significant amount of cash. for other purposes.
Remy said the Trinidad & Tobago League is seeking regulatory changes that would allow it to process utility bills and ease restrictions on the types of investments member institutions can participate in. His group is also seeking to change regulations requiring government approval of individual mortgage applications.
In light of the pandemic, credit unions across the region are seeking relief through a new set of rules known as International Financial Reporting Standard 9 from the International Accounting Standards Board, said Andrew Price , vice president of advocacy for the World Council of Credit Unions, said.
Among other things, IFRS 9 governs the accounting for losses caused by government moratoria on loan repayments due to the pandemic, which is of concern to credit unions, Price said.
Caribbean credit unions are also looking for the flexibility to operate buffer accounts to meet the current challenges they face. And credit unions in many Caribbean countries have applied for permission to hold annual meetings virtually because of the health risks associated with large gatherings, Price said.
WOCCU and CCCU have helped members in the region advocate for more regulatory flexibility.
Financial regulators in the Caribbean are often strict because of the region's historic reputation as a center of money laundering, Price said. In addition, financial regulators in the region sometimes fail to take into account the relative size and complexity when imposing the same regulations on international institutions like Deutsche Bank as local credit unions, Price said. Regulators in some other countries have been more willing to postpone the implementation of these rules in light of COVID-19, he said.
"It's fair to say that the response in the Caribbean has been slower than in the US, Canada and Australia, but I think they're listening. They're coming, "Price said.