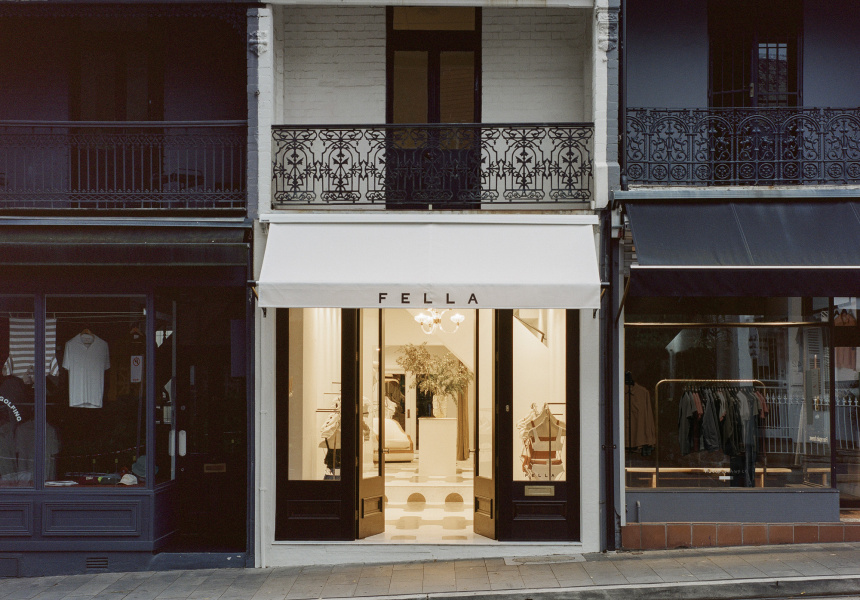 Aussie Swimwear Label Fella opens its first physical store in a luxurious terrace in Paddington
When Rosie Iffla and Christine Tang-Corte founded Fella in 2012, Australia's swimwear landscape was dominated by big name surf brands and skimpy bikinis.
"The only companies that existed were the giants like Seafolly, Tigerlily, Zimmermann and… the surf brands," says Iffla. Large format. "We felt there was a gap in the market for a small brand that focused on minimal lines and quality construction with no frills or unnecessary padding."
The result was Fella, which celebrates a decade of elegant simplicity and high craftsmanship – previously only available online and through other retailers – by opening its first physical store on William Street in Paddington.
The boutique, located on a heritage terrace, reflects the contemporary yet classic chic aesthetic of the brand. It was designed in collaboration with Alexandra Ponting of AP Design House.
As a nod to ocean waves, curves feature prominently — as in the undulating blackened steel railings from which bathing suits hang and in the patterns on the two-tone marble floor. Rich textures echo the signature jacquard weaves of Fella swimwear, from eggshell rendering on walls to plush rugs in dressing rooms.
The store has a dual function: not only is it a space where customers can try on Fella's pieces, but it also gives the company the opportunity to grow behind the scenes.
"We had outgrown our office and Tang suggested that if we had to buy another one, why not make a store?" Iffla said. "It also made a lot of sense as 70% of our online customers in Australia are from NSW. We wanted them to be able to try on swimwear, find their perfect fit and size, and also be equipped for custom alterations when needed.
In store, you'll find the brand's core line of solid-color bikinis and one-pieces, plus a new collaboration with fashion designer Lucy Folk. With smaller production runs than big swimwear companies, you're less likely to find yourself hitting the beach with a friend, while bikini tops and one-pieces are designed to take you from the shore. swimming pool at the bar.
"Our whole concept of the brand was to create versatile pieces so you could wear them under a cotton shirt like a pseudo-bra or even as a crop top with wide-leg pants," Iffla explains.
You can easily buy a bikini top, slip it on and take a 100m stroll down one of Sydney's prettiest streets to celebrate your purchase with a drink at 10 William St.
"Paddington's architecture really suits our brand as the buildings have some nice bones, and 10 William Street happens to be one of our favorite bars, so it's pretty practical too," says Iffla.
Guys
37 William Street, Paddington
(02) 8859 2371
Hours:
Tue & Wed 10 a.m. to 5 p.m.
Thu & Fri 10am–6pm
Sat 10am–5pm