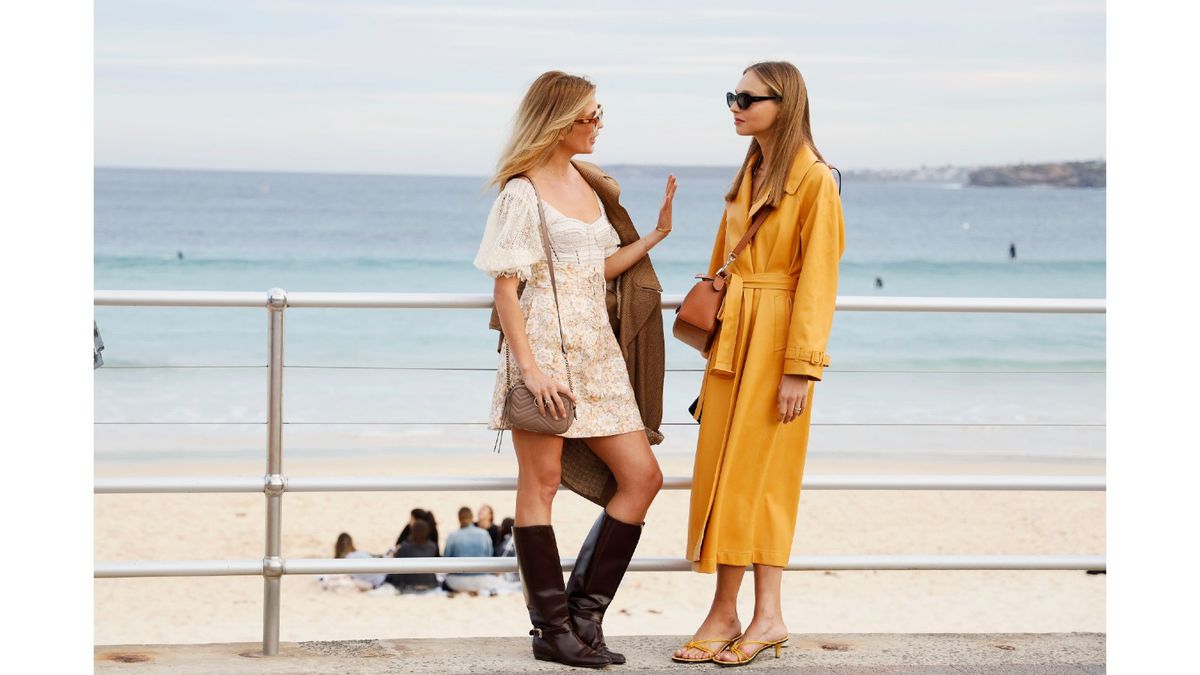 These are the Australian clothing brands to have on your radar
There's something about Australian clothing brands that makes us feel instantly cool. Maybe they're the idyllic visions of sun, sea, sand and permanent tan, or they embody a dreamy laid-back lifestyle that feels far removed from the daily grind.
Anyway, over the last five years we have seen a great influx of Australian clothing brands making waves on the international fashion scene. With global shipping options, there's never been a better time to inject some sunshine into your capsule wardrobe.
When it comes to top Australian clothing brands, luxury brand Zimmermann is perhaps the hottest right now. Famous for their colorful feminine creations, they parade each season at New York Fashion Week and count Beyoncé, Katie Holmes and Laura Dern among their fans. But if you don't have an A-lister budget, fear not, like France's biggest clothing brands, there's more to the country's fashion scene than runway-ready designers. With some of the best sustainable brands, Australia's fashion scene is taking on some of the hottest destinations in the world.
While you can look to American clothing brands for a high and low mix, British clothing brands for modern tailoring, or Scandinavian clothing brands for minimalism, Australian clothing brands have become synonymous with lightweight pieces, relaxed cuts and clean summer essentials. With a particular focus on eco-friendly fabrics and ethical manufacturing, they are worth checking out.
The best Australian clothing brands to browse
The best Australian clothing brands chosen by our fashion editors
Whether you're looking for stylish beachwear or casual pieces, here are some of the best Australian clothing brands that ship to the US and UK.
1. Aje
If you're looking for feminine designs with an upscale feel, Aje is the brand for you. Founded by best friends Adrian Norris and Edwina Forest in 2008, the pair combine their love of art and sculpture in their designs to create some truly striking pieces. We love bold looks that are a mix of "raw beauty, tough femininity and effortlessly cool."
If you're wondering what to wear to a wedding this summer, Aje is the place for special occasion dresses that will get you noticed, as well as voluminous bottoms and structured tops that will look super chic with your best sandals. With an in-house design studio, the team are experts in their craft so you can rest assured that any piece you own will be crafted with care and passion.
The fashion editor's favourites…
---
---
---
2. Bassike
Pronounced 'basic', friends Deborah Sams and Mary Lou Ryan set out to create easy-to-wear wardrobe essentials in 2006 that work perfectly with your existing parts. And the pair nailed it. Starting out with organic jersey t-shirts, the brand now relies on quality items that will really last a long time. Smocked dresses, joggers or tank tops with loose cuts are the backbone of the brand that you can pair with trendier pieces in your wardrobe. Its flat sandals are really good if you're looking for chunky sliders that embody that nonchalant beach aesthetic. Based on the northern beaches of Sydney, the brand's philosophy is also to respect the planet. Sustainable manufacturing is at the heart of the brand, while 95% of its clothing is also made in Australia.
The fashion editor's favourites…
---
---
---
3. Spout + Bridge
An Australian clothing brand made by women for women, Bec + Bridge's philosophy is to empower its customers through their wardrobe. Its extensive range of dresses is at the heart of the brand offering mini, midi and maxi styles in a range of colors. The bridal selection is definitely worth browsing as it features bodycon satin bridesmaid dresses in multiple styles and hues to suit all your bridal parties as well as affordable wedding dresses. We love that it's more inclusive than many other Australian fashion brands. Plus size models are in the game when it comes to showcasing their clothes on the site as well as in campaigns which undoubtedly inspire all customers to feel confident in their clothes.
The fashion editor's favourites…
---
---
---
4. Country Road
An Australian institution for over 40 years, Country Road was one of the first lifestyle brands to encompass women's, men's and children's fashion as well as homewares, making it a popular shopping destination. of the whole family. The brand started with a simple country shirt and has since become a staple in homes around the world. Combining a mix of colorful basics, statement pieces and quality essentials, it's easy to get lost in all that Country Road has to offer. Its focus on durability is to be commended, as is its wide range of accessories that will transform an outfit in seconds. With a modern take that represents laughter and sunshine, it's an Australian clothing brand that deserves to be on your radar.
The fashion editor's favourites…
---
---
---
5. Nation PE
It was the celebrity-approved label that made workout gear cool again. Seen on the likes of Jessica Alba and Margot Robbie to name a few, PE Nation combines technical sportswear with an urban streetwear edge. If you're the type of woman who jumps straight from gym class to brunch, this could easily become your go-to brand. It's bold, bright, strong and has lots of logos, but if you're looking for the best leggings or best sports bras, then you'll want to give PE Nation a whirl, plus it's got a decently sized offering too. b Think neon trims, graphic lines and fierce prints as well as tennis dresses and puffer jackets that take the sport-luxe trend to new heights.
The fashion editor's favourites…
---
---
---
6. SIR Label
Its interesting name stands for 'Separates, Intimates and Ready-to-wear' and this Sydney-based brand is the place to go for wardrobe staples that have a contemporary twist. Channel that relaxes the Aussie vibe with cut-out dresses that exude laid-back cool. Its swimsuits are particularly impressive and worth checking out if you want a one-of-a-kind swimsuit with a sexy 70s vibe. With a focus on sustainability, SIR The Label strives to do better for the planet. It stocks limited quantities to reduce unnecessary waste, has a made-to-order business model, and any excess stock is donated to partners who empower women in need.
The fashion editor's favourites…
---
---
---
7. Fate
If you're a hippie at heart, browse Spell's bohemian styles. Founded by sisters Elizabeth and Isabella of the seaside town of Byron Bay, their collection of floaty dresses and feminine prints is perfect for the free spirits among us. Colorful and petite floral prints are a signature at Spell and are the perfect outfit for any garden party. We especially love long dresses that can be worn over swimsuits, smocked dresses or with your best jeans. Each piece has a nostalgic feel that will have you channeling your inner Stevie Nicks. It also includes a bohemian bridal collection of gorgeous lace dresses at excellent prices. Plus, there are coin rental options for an even more sustainable way to shop.
The fashion editor's favourites…
---
---
---
8. St. Agni
Less is definitely more when it comes to this Byron Bay brand. Since bursting onto the fashion scene in 2014 with their handwoven leather accessories, the husband and wife duo behind the label have created an exciting buzz around the clothes they create. Modern, minimal and wickedly cool, St Agni makes items that are built to really last. From monochrome dividers to earthy tones made from natural fabrics, this is a company that takes its social and environmental responsibility seriously. Its versatile tailoring and linen dresses are particularly successful and the accessories are also worth highlighting. With stacks of gorgeous accessories, get inspired by the handbag trends of 2022 and order an oversized tote bag that will carry all your essentials for years to come or stock up on shoes that will get you into summer in the most elegant way.
The fashion editor's favourites…
---
---
---
9. Zulu and Zephyr
When you think of Australian clothing brands, you immediately think of white sand beaches. And that's exactly what the lifestyle brand Zulu & Zephyr offers. If you are looking for the best swimwear, stop the search right now. From one-piece wonders to patterned bikinis, this is a brand that really knows their swimwear. Focusing on eco-friendly materials, many of its designs are made from recycled polyester or fishing nets so you can do your bit for the planet too.
That's not to say their clothing line should be ignored. Lightweight linen styles in loose fits are the perfect accompaniment to a day at the beach and are ideal for layering over your swimwear as you take you from the beach to the bar. Nostalgic colors and prints have a touch of retro glamor that will instantly make you feel like a style icon of bygone eras.
The fashion editor's favourites…
---
---
---