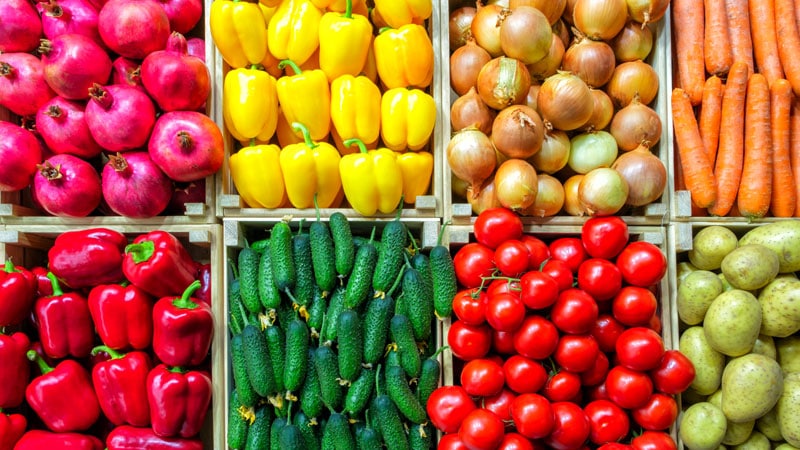 Supermarket dietary advice improves adherence to DASH: SuperWIN
People who received personalized nutrition education in a series of sessions at their usual grocery store significantly improved their adherence to a healthy diet, in a new "first-of-its-kind" study in which scientific researchers teamed up with a large supermarket company.
In the SuperWIN study, participants received personalized advice from supermarket dietitians using data about their own shopping habits recorded on their supermarket loyalty cards. This has been associated with increased adherence to the Dietary Approaches to Stop Hypertension (DASH) diet, which emphasizes vegetables, fruits and whole grains while limiting foods high in saturated fat, sugar and sodium and it has been shown to lower blood pressure and low density lipoprotein cholesterol.
A group of patients also received additional education on healthy eating and meal planning through online technologies, and this group showed even better adherence to the DASH diet.
The study was presented at the American College of Cardiology (ACC) 2022 Scientific Session by Dylan Steen, MD, adjunct associate professor of medicine at the University of Cincinnati College of Medicine in Ohio.
"The SuperWIN study provides evidence of the benefit of offering healthy food interventions in modern supermarkets and retail clinics," Steen said. "This demonstrates the effectiveness of dietary interventions leveraging the physical environment of the supermarket, dietitians working in the store, and purchase data captured on store loyalty cards," he added.
The study was conducted in partnership with Kroger, the largest supermarket chain in the United States, which also operates a large chain of pharmacies and health clinics.
Steen said the study tackles one of the biggest public health problems – unhealthy diets – with an innovative approach. "We need to think about how we can extend the reach of modern health systems to communities and better deliver services where people are; meet them where they live," he said during a ACC press conference.
Commenting on the study at the press conference, Eileen Handberg, PhD, professor of medicine at the University of Florida, Gainesville, and outgoing chair of the ACC Cardiovascular Care Team Council, said, "I "I'm incredibly excited about this. There's so much potential here. We've never really taken advantage of the current explosion in retail-based healthcare before."
Handberg suggested the study had major implications for the primary prevention of cardiovascular disease. "Little kids shop with their parents, so you have the opportunity here to change kids' behavior if you can change the dynamics of the choices they make at the grocery store," she said.
In his presentation, Steen noted that despite many long-standing healthy eating guidelines, about 75% of Americans still eat poor quality diets. This trial was conducted to see if a new approach could improve this situation. "If we change the environment in which we deliver food education, we can make a difference," he said.
The SuperWIN trial was conducted at 13 Kroger stores in Ohio and Kentucky. The study recruited 267 people with at least one cardiovascular risk factor from a primary care network who regularly shopped at one of the study stores. All participants also had to be willing to follow the DASH diet, which was taught at every educational session in the trial.
All participants received "enhanced" medical nutrition therapy that was guided by the individual's own analyzes of food intake.
They were then randomly assigned to one of three arms. The control group received no additional training. Strategy Group 1 received six additional training sessions in the supermarket aisles over a 3 month period. Each session was guided by updated individualized purchasing data provided to the dietitian and participant.
The Strategy 2 group received the same six additional teaching sessions as Strategy 1, but they also received additional teaching on healthy eating and meal planning from a variety of shopping tools online and nutrition and health care apps.
"Supermarket scans were automatically collected so dietitians could tell what each person liked to eat, how much of each product they bought, and how much they spent," Steen explained.
COVID hit halfway through the trial and 20 participants were pulled out for their own safety as they could no longer visit stores, but the trial continued with the rest of the participants with heightened safety precautions. The overall analysis cohort was 247 participants.
The average age of the participants was about 50 years old, about 70% were women, and most had no history of cardiovascular disease.
Dietary habits were assessed by three 24-hour dietary recalls assessed at baseline and at 3 and 6 months. The DASH score, which is a measure of adherence to the DASH diet, was calculated from this information. The score can range from 0 to 90, with a higher score indicating increased adherence.
In one analysis, the researchers compared the DASH scores of the two intervention groups with the control group, and in a second analysis, they compared the scores of the strategy group 2 with those of the strategy group 1.
Before the pandemic, there was "almost 100%" attendance at all six visits during the 3-month study period, which Steen said he thought was "remarkable". During the pandemic, attendance dropped to around 80%.
The results showed that the DASH score increased in all three groups at 3 months, with progressive increases corresponding to the intensity of the intervention. DASH scores increased by 5.8 points in the control group, 8.6 points in the strategy 1 group, and 12.4 points in the strategy 2 group.
DASH scores differed significantly between the two intervention groups and the control group (P = .02). "This shows that buying data-driven store visits increases the effectiveness of diet education," Steen said.
The difference in scores between the strategy 1 and strategy 2 groups was also significant (P = .01). "This shows that the online improvements increase DASH diet adherence even further," Steen commented.
After 6 months, the scores had slightly decreased, but they had still increased compared to baseline: by 4.4 points in the control group, by 6.6 points in the strategy group 1 and by 8. 4 points in strategy group 2. "There was again a gradual increase as the intervention intensified, but there was no longer a significant difference between the interventions and the control," Steen noted .
Secondary endpoints included blood pressure and body mass index. Systolic blood pressure decreased slightly in all three groups: by 2.8 mm Hg in the control group, by 6.6 mm Hg in the strategy 1 group and by 5.7 mm Hg in the strategy 2 group. was reduced by 0.2, 0.4 and 0.8, respectively, but the differences between the groups were not significant.
Steen noted that this is the first such study to date in which scientific researchers have collaborated with a major supermarket chain. He explained that they also involve a primary care network so that information on health care utilization is available.
"We can integrate retail-based healthcare information with traditional healthcare information. And we can also start looking at downstream healthcare utilization and cost outcomes, which will be important as we begin to think about how to evolve the health system," he commented. .
"The hope is that we can bring more scientists to work with more retailers to really drive the evidence to shape the evolution of our healthcare system," he added.
Upcoming challenges
Handberg pointed out that it would be difficult to reach the underserved population that does not shop at large supermarkets. "We need to figure out how to get partnerships across the grocery spectrum."
She also noted that 3 months (the length of the study intervention) was not a long time to change a family's eating habits. "Interventions may need to be a bit more intensive to get the change in blood pressure and weight that we would like to see."
She added that she hopes larger grocery companies will see the opportunities in this approach. "Changing behavior is very complicated, and the key will be how to get people to buy into the changes. But grocery stores are smart. They made us go to their pharmacies, so getting us to see a dietitian isn't that hard. . ."
Moderator of the ACC Late Breaking Session at which the study was presented, Pamela Morris, MD, of the Medical University of South Carolina, who is also Chair of the ACC Annual Scientific Session , asked if the approach could be maintained.
"I think back to the barbershop study of blood pressure treatment, and to my knowledge, those pharmacists are no longer in those barbershops, taking blood pressure, counseling patients, and prescribing blood pressure medications. Kroger maintains also a long-term commitment to provide this education, or how to finance it in the long term? she asked.
Steen replied that he believes durability is one of the main strengths of this model. "Retail healthcare is exploding in the United States. The number of retail outlets offering a comprehensive list of services continues to grow. These programs exist whether this trial has been conducted or not."
But Steen stressed that having an evidence base will be critically important.
"Validation is a huge part of this evolution of retail-based healthcare – not only to understand what works, but also to engage payers and others in the process of supporting these interventions. I think that the sustainability is there – it's kind of built into the model – but research will play a big role in consolidating that and helping us understand what we need to do."
The study was funded by Kroger. Steen is a consultant for Sanofi and CEO and co-founder of High Enroll LLC.
American College of Cardiology (ACC) 2022 Scientific Session. Presented April 3, 2022.
Learn more at theheart.org | Medscape Cardiology, join us on Twitter and Facebook