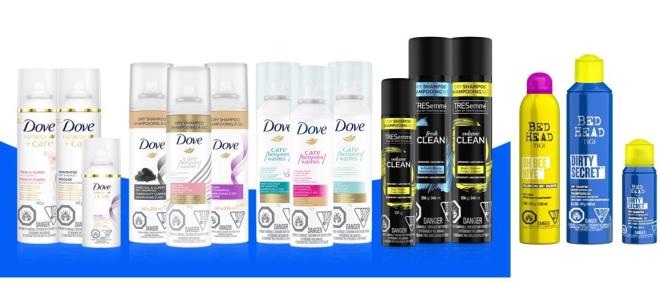 Over 100 incidents or injuries reported since mass dry shampoo recall: Health Canada
More than 100 incidents or injuries have been reported to Health Canada since the agency recalled more than 1.5 million dry shampoos due to the detection of benzene, a cancer-causing chemical.
The recall, announced Oct. 18 by the health agency, involved certain lots of Bed Head TIGI, Dove and Tresemmé dry shampoos that are packaged in aerosol cans and distributed by consumer goods giant Unilever Canada Inc.
Unilever Canada issued a statement the same day indicating that the recalled products "have been distributed nationally in Canada through retail and online outlets."
Health Canada said the affected products, manufactured in the United States, were sold in Canada from January 2020 to October 2022.
In an emailed statement to The Epoch Times Nov. 2, Health Canada said it had received more than 100 reports of product-related incidents or injuries since the recall, with "irritation or allergic reaction" being one. of the main types of injuries reported.
"Please note that not all reports include injuries; some reports only relate to questions about the recall," the email said.
The official government site for "report an incident involving a consumer product or cosmetic" includes reporting faulty or damaged products, problems with product labeling or instructions, and injury or death.
"Due to the reports still being received, the total number of reports and the analysis of injury types is ongoing," Health Canada said in the email.
"Health Canada understands that consumers may have used these products in the past and recognizes the challenges for consumers in knowing if they are affected by the recalled products."
In the Oct. 18 statement, Unilever Canada said an internal investigation had identified the propellant as the source of "potentially high levels of benzene" and that it had begun working with propellant suppliers to resolve the issue.
"Unilever Canada is recalling these products out of an abundance of caution," the company said.
This is not the first time that Health Canada has recalled products containing benzene. According to its records, there have been at least 12 recalls related to the same issue since 2021.