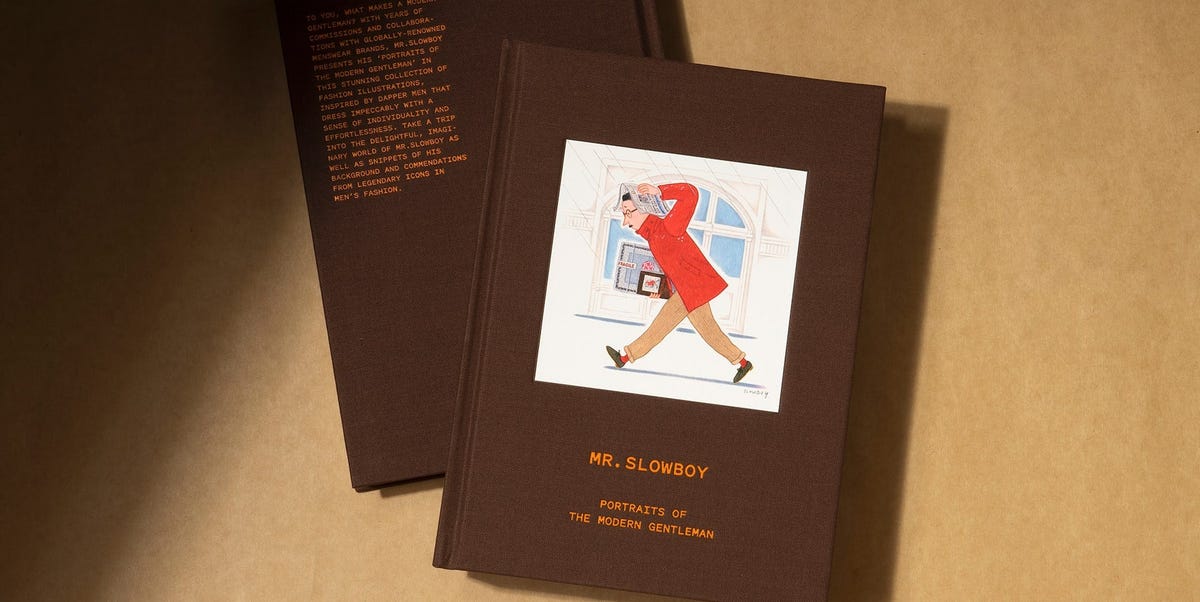 Meet one of the fashion industry's most requested illustrators
"Street style" is the term for going out into the real world and recording what people are wearing. A series of videos made by YouTubers Kofi McCalla (aka The unknown vlog), for example, focuses on a single host walking through a city: he simply asks townspeople, "What are you wearing today?" and the subjects respond with refreshing honesty. At Watch New York, a street style Instagram page, photographer Johnny Cirillo captures people on their way to work or the grocery store. But sipped between photos of skinny models wearing high-end designer items, images of everyday people reveal used, found, and heirlooms: Cowboy boots fashioned into inline skates; a hat that a friend mended for them.
In both mediums, subjects move quickly – rushing to where they're headed – and recorders need to be just as fast. But in demand London Illustrator Mr. Slowboy (aka Fei Wang), whose art is also a little street style, takes his time capturing his subjects the old-fashioned way: by drawing them. Contemporary yet classic, and a clear reference to existing art and artists like "Indian miniatures, Japanese ukiyoe and the great Hozumi Kazuo", he says, his portrayal is precise and playful, popular and yet utterly unique. You know Slowboy's work when you see it; his characters are like signatures, avatars of a world he has created. And many customers want to cross.
Wang has worked with renowned brands and auction houses, real estate empires and retail sites, shoe manufacturers and magazines, an airline and car manufacturers. In addition, he has amassed quite a few personal archives on her instagram. To document the work he has done so far, Wang worked with the Hong Kong publisher Victorious in a retrospective titled Mr. Slowboy: Portraits of the modern gentleman. It debuted on December 21, 2021 to wide acclaim – both from those featured and those who wished it was. We contacted the illustrator shortly after to discuss it.
Mr. Slowboy on Portraits of the modern gentleman
This is your very first solo book, isn't it? (I know you already did one in collaboration with Sebago.) How was your debut?
Yes, this is my first book and a summary of my first step into full-time work as a fashion illustrator. I was approached by Victionary, a Hong Kong-based publisher in mid-2020 to create a men's style book that made me review and assess all the work I had produced over the past 6 years, and It's quite interesting and refreshing to watch them collectively. I thought maybe I should take this opportunity to organize an exhibition that archives and presents the development of my previous commissions and my personal work in book form.
Speaking of collaborating with Sebago, I was pretty excited when they offered me the pop up book idea, like in the menswear industry, it's something innovative that you don't come across every day. Unfortunately, this is for display and public relations purposes only and not available for purchase.
You rely on your portfolio of business and personal clients for book content. Do you have any favorite portraits in there? What did you understand from your work as you compiled it? Did you learn anything about your subjects?
As I mentioned above, I saw a very different picture when I mapped all my previous work on the floor, and they certainly evolved from time to time, not just the proportions of the figures or the drawing techniques Even the preferable style is subtly changing with the fashion trends. However, I could tell from the work that classic, traditional menswear was still my favorite subject, and most of the models in my favorite portraits wore suits.
One of my favorite portraits featured in the book is that of Mr. Luigi Dalcuore, the Neapolitan master tailor who sadly passed away last year. We met several times in different parts of the world when ordering and fitting and we never spoke much because of the language barrier, but his humility and caring were the unspoken charm and to my notice the essence of a gentleman.
It's as much an art book – you're an artist after all – as it is a menswear book. Was that the point?
Although the majority of my work is for illustrative purposes, I have always tried to avoid my work being overwhelmed with commercial features, even if they are commissioned by brands, companies or magazines. I take every opportunity to experiment with new techniques to advance my art and use it as a means of expression, my point of view on fashion and style, in a nutshell, I make art with men's fashion as subject. That's why it's vital to choose the right brands that allow freedom of creativity.
Besides the portraits, what will buyers find inside?
I hope they can find inspirations or references on styling, and of course the pleasure of dressing and the joy of living.
Your style is so unique, which makes your work – almost like a signature – easily identifiable whenever a brand approaches you for a campaign or corporate portraits. How did you grind it? How do you describe it now?
I really want to boil this process down to some kind of formula and I'm sure there is one when I reconstruct someone's face with a flat-slowboy style, but unfortunately the process seems to have happened from a subconscious way that is beyond words.
Who are some of the people depicted inside?
The modern gentlemen around us.
---
To buy Mr. Slowboy: Portraits of the Modern Gentleman
This content is created and maintained by a third party, and uploaded to this page to help users provide their email addresses. You may be able to find more information about this and similar content on piano.io