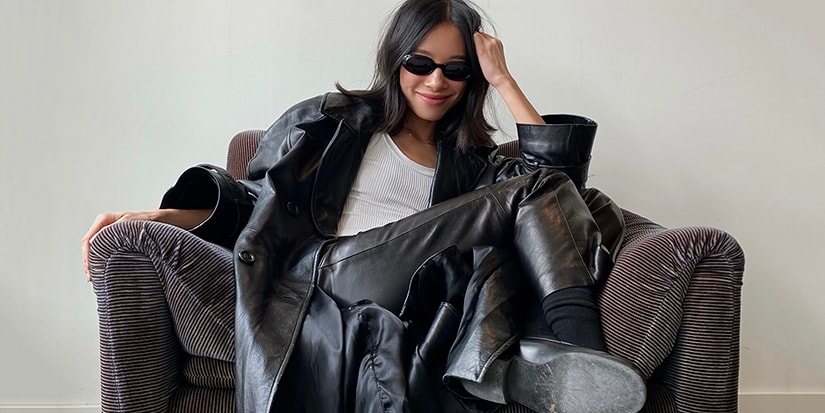 Meet Nhỏ Girl, a vintage boutique for petite women
"I've always been interested in clothes. Maybe a little too much," laughs Amy Pham Thi, founder of Amsterdam-based Nhỏ Girl, while recalling her first fashion memory: her mother dressing her for school. "To fit in with the other kids in kindergarten," she adds. Growing up Vietnamese in Berlin, Amy admits she always felt a little foreign, both culturally and in dress. "Being Asian, Western sizing doesn't fit my body type," she says. In 2017, after years of searching Europe for well-fitting vintage clothing, Amy launched Nhỏ Girl ("nhỏ" means "little" in Vietnamese), an Instagram vintage store aimed at petite women.
With Nhỏ Girl, Amy – and her keen sense of style and branding – created a singular and instantly recognizable look for her client. It's the kind of hard-earned aesthetic usually reserved for big fashion brands. While constantly evolving ("I don't want to be stuck with one aesthetic," the founder says), the Nhỏ Girl uniform is sleek, metropolitan, and inspired by Amy's native Berlin. The tech-chic and luxury utility of 1999 and Y2K Prada, or its little sister Miu Miu. In January, Bella Hadid wore oversized military pants that immediately brought to mind Nhỏ Girl. In fact, a cream iteration was for sale on the brand's Instagram that same month.
We recently caught up with Amy to discuss her fashion debut, the state of the fashion resale market and, of course, the coveted "Nhỏ Girl look."
How did you start your fashion career?
I always knew I was going to work in fashion, but it took me a while to figure out exactly what I wanted to do in the industry. I was trained as a seamstress, but I told myself that I really didn't want to sew clothes all day. Then I studied communication design and fell in love with graphic design, photography and typography. From my baccalaureate, I learned that it was branding within the fashion industry that attracted me.
Why did you launch Nhỏ Girl?
In 2017, I started running an online vintage business with my boyfriend called BUYITNOW, which catered to people who love streetwear. While searching for this company, I found so many items for girls who dressed more feminine, which didn't work for BUYITNOW. Another issue, for me personally, is finding items in my size, as I am very petite. We decided to open another Instagram profile with these feminine articles and curated for little girls who struggle with the same problem. This is how Nhỏ Girl was born: out of necessity, not out of exclusivity. Being of Vietnamese descent and being born and raised in Berlin, I can feel the feeling of not fitting in. Knowing that I'm helping girls like me who are struggling with this, by creating this community, is something I'm really proud of.
What do you find most rewarding about running Nhỏ Girl?
The people I met. People who understand my vision and believe in Nhỏ Girl. Talking with people and bringing people together makes me happy; seeing girls walk into the store and feeling confident while trying on clothes is very rewarding. Of course, in the end, it's just clothes, but it's an important part of identity and self-expression. [The fact] that I can help, in some way, is the most fulfilling thing for me.
What has been your biggest challenge so far?
I never studied commerce. It's the first time I've been my own boss, and I mainly learn by doing. I am a very realistic and extremely dedicated person. My biggest challenge is that I want to be the best at what I do. Being independent means the work never stops because you believe you can always do better. Taking breaks can be difficult, and especially letting go. Since this is my own business, the hardest thing to do is not to take it personally. Getting good customer feedback is the most rewarding thing that can happen, but it's also the worst to have even one unhappy customer.
You created a very specific look with Nhỏ Girl. How would you describe the "Nhỏ Girl look"?
It's really funny when people talk about a "Nhỏ Girl look". I'm not a designer and I don't produce anything, but somehow Nhỏ Girl separates enough to be recognized. I can't really explain it, it's more of a vibe. I guess a Nhỏ Girl cut is well put together, neat and clean with a rough edge.
How do you go about sourcing Nhỏ Girl?
I don't care about premium brands like you think. Finding designer pieces at a good price is probably the easiest thing to do on the internet. When I look for Nhỏ Girl, it's less about the brand and more about the piece itself: the cut, the fit and the "wow" factor. I look for strange and unexpected objects. When an article surprises me, it's a "yes".
The vintage and resale market has exploded during the pandemic. How does Nhỏ girl fit into this emerging market?
Resale and vintage culture have always existed in different forms, and even within the vintage community there are trends. He went from reselling streetwear to Y2K, to now archiving the aesthetic. The size of large companies like Vestiaire [Collective], Grailed and Depop show that this industry is experiencing tremendous growth. You can create an Instagram profile and start reselling tomorrow. The thing is, it's easy to get started, but standing out is the hardest part and where it often fails. I don't see Nhỏ Girl as a resale profile that way. There is so much more behind Nhỏ Girl. It's the community.
How would you describe your personal style?
I'm from Berlin, so I like to wear black, leather jackets and pants, but also sometimes a touch of color — because life would be way too boring and I don't want to limit myself.
What inspires you creatively?
On a daily basis, I am inspired by old people in chic outfits in the street. If they are this age and dress this well, it means they have found their style and know what suits them best. [Wong Kar-wai] movies like Chung King Express, love mood, or the films of Wes Anderson always inspire me. Sure, I love watching aesthetic movies, but I think what inspires me the most is when a movie makes me feel something. If you can create something that makes people feel something, that's really special.
What excites you most about fashion right now?
I love that there are so many opportunities and accessibility. It's like Virgil [Abloh] says: this decade, we will end up mixing and mixing everything together. Looks like the trend cycles are accelerating to a point where there is no more hype and all is well. You can truly be who you are and express it in how you present yourself to the outside world.
---
Zoë Kendall is a writer and editor specializing in fashion and culture. You can find her on her website and on Instagram.