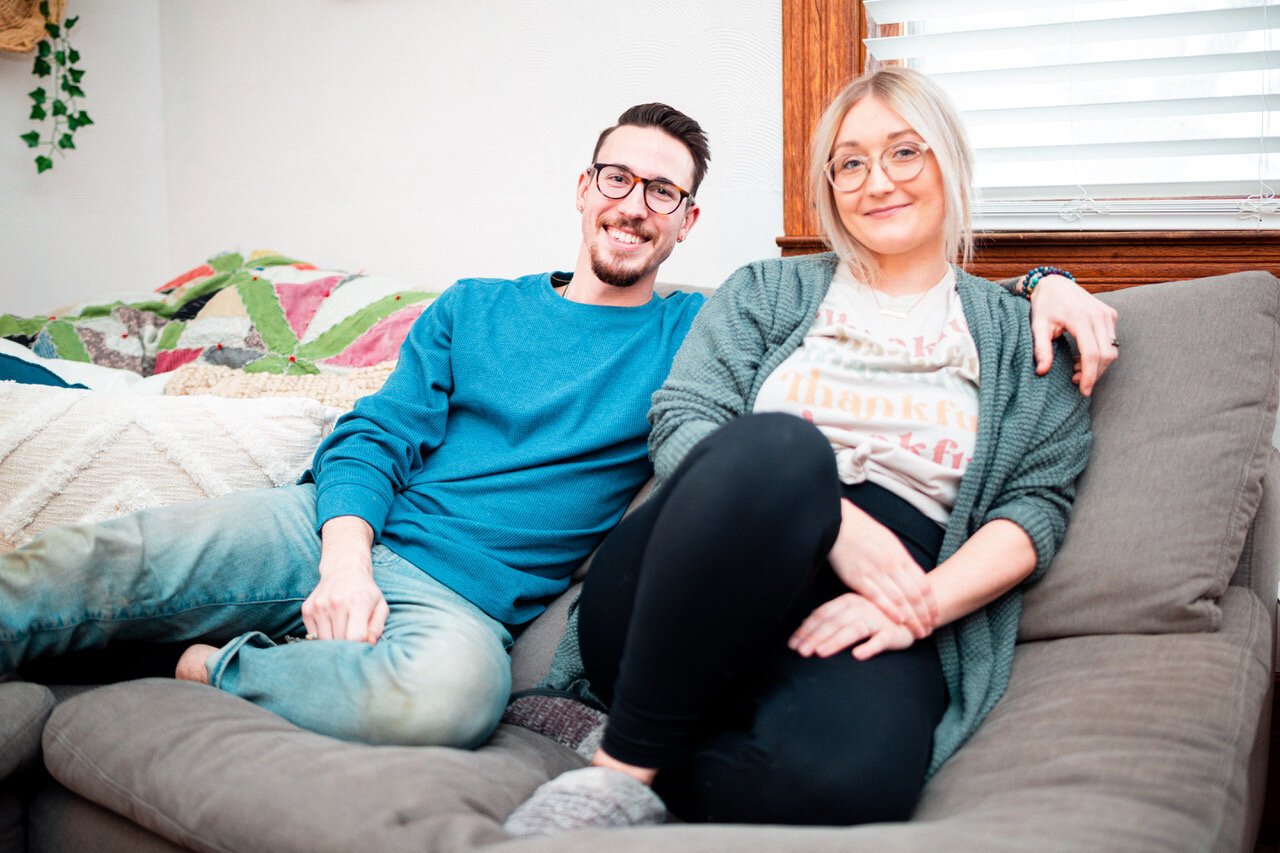 From tragedy to spiritual triumph with a bespoke pressed flower shop, Sincerely, Sage Jo
FLINT, Michigan – "There was no medical reason for him not to," Megan Shelton says, recounting the moments leading up to the birth and death of her first child, Sage, with her husband. Mitchell Shelton.
There were no signs, indications or notices that after 40.3 weeks of pregnancy they would "call the ambulance [for] the baby and me" and rushed to Hurley Medical Center with the distraught, emotional and disobedient Mitchell, passing "well over 80" behind them.
The diagnosis, she said, was a stillbirth. However, Sage's abrupt transition would spawn an unexpected blessing, Sincerely, Sage Jo, a bespoke pressed flower preservation shop – named in honor of their son.
At the divine moment, Megan and Mitchell invited me to their immaculate ranch-style home in Flushing, Michigan, a few weeks before what would have been Sage's first birthday – February 12. Their home is rich with several acres of land, a guest house turned into a music studio, and adorned from head to toe with decorations that elicit feelings of tranquility. We sit in their living room bounded by vintage woodwork, white walls, plants, crystals, and one of three dogs nestled on the couch.
Several unique custom-made pressed flowers from Sincerely, Sage Jo's Etsy shop.
Mitchell's arm is wrapped around Megan, offering comfort as she explains that when the flowers given to them after Sage's memorial began to wilt, she, persevering in grief, saw "that you can press flowers. [And] I don't remember where or when or what, but I bought some gold frames, cut the flowers, threw them in and closed.
This inextricably led Megan to create Sincerely, Sage Jo. But while business is booming, allowing Mitchell to quit his job, what has led to this is heavy, and a tinge of grief lingers in the air that has caused the couple to fall back on the one thing that is dear to them: spirituality.
"We went to see a psychic because it made no sense. Being spiritual people, we were confused as to what happened. They said it's not his time, and he's coming back [our] next baby," Megan explains, with Mitchell nodding in agreement. "One of the biggest things we talked about afterwards was that we never wanted to fall into a dark place. We've both been there before, and you can get there very easily when things go wrong. like this happen, so it was our way of finding the light and giving back to people.
Going viral on TikTok thanks to Megan's successful attempt to press Sage's flowers, the now-thriving business has attracted customers across the country, asking for pressed flowers from their weddings, memorials, baby showers and other flower arrangements. "It's sentimental," she says, showing me the first pressed frame she made that hangs on the wall.
"They spend thousands on their wedding flowers. Then they're finished, and they're like, what do I do with this? And to give it that touch of sincerity, the frames are custom decorated with decals: the person's last name, a date, and encased with a rose quartz crystal.
A ready-to-ship order titled "The Powlessess" is pressed and framed after a time-consuming two to three week process.
At this point, our conversation moved upstairs past three other rooms – one being a creatively designed baby room – barking dogs, and into another where the magic of pressing the flowers occurs. The serene vibes of the ground floor continue here, scattered among the bricks, sand, books, picture frames, and boxes. But they tell me, Sincerely, Sage Jo almost did not happen.
For a time, Megan held back, but Mitchell gave his wife an extra boost to enter a crowded market of flower presses. And although business has grown and the financial rewards are plentiful, they make it clear that they appreciate their success and understand how quickly and easily anything can be taken away.
"I think it's because we've dealt with so much bullshit already," says Mitchell, looking out the window that offers a picture-perfect view of the guest house. "We know what it's like to come from somewhere with no money. We worked for it all, and [anything] can be taken away as you receive it. So I think that's where humility comes in."
"I thought you could manifest anything you wanted, which I still believe to be true. But we never thought we could lose our son," Megan adds. feeling like anything could happen – anything could be taken from you."
And it's those life lessons that help them both pay attention to every command that comes in. For example, they walk me through their flower pressing process, which Megan says with a laugh, "I'm sure there are real flower presses out there, but this works for us.
"We cut them and thin them out a bit. Then you open them between two pieces of parchment paper, put them in the sleeves of a book, stack them, put heavy bricks on them, label them and leave them for 48 hours," Megan illustrates, pointing to each item described. . "You put them in these plastic bins with sage dry sand. We leave them for ten days and then they are ready to be framed. »
"It was our way of finding the light and giving back to people." – Megan Shelton

Customers can order online through their Etsy shop, with instructions on packing and shipping flowers. The entire ordeal takes time, taking Megan and Mitchell on average "two to three weeks" to complete an order, with up to 10 being worked on simultaneously.
But the result is elegant, and it shows throughout the many ready-to-ship orders that photographer Bryce Mata and I have seen. Hard work and due diligence are paying off with orders and feedback received from the community and customers. It reminds them that the light still exists.
"I was scared to work in customer service because people can be very cruel. So when we [press flowers], it's very vulnerable," Megan expresses. "We create art for them, and [thus far] the people were very nice. If we ever run into a problem, like a broken frame, they reach out and we do it again for them.
But all of this, they tell me as we continue to descend, has granted them peace, ushered in a unique enterprise, and given them a second chance at parenthood. Yes, in June, Megan and Mitchell are expecting their second child named Sequoia Sage – a tribute to redwoods and their first child. True to their spiritual beliefs and mine, in universal law that means all is well.
"We wondered if we could go back and change it, would we have done that. That's a difficult question to answer," says Megan. "Where we are now, it's hard to say yes because it's changed our lives in such a beautiful way."
"It felt like it was a game set, and we signed a contract in the spirit world that was predetermined. I felt like it was a lesson I had to learn from having to lose a baby in this lifetime," Mitchell says, having recognized its spiritual significance. "Now we can help all of these people instead of helping ourselves. [Sage] go and let it come back in baby Sequoia, we can help millions.
Find Sincerely, Sage Jo on Facebook and instagram. To order a custom pressed flower frame, visit their Etsy store.