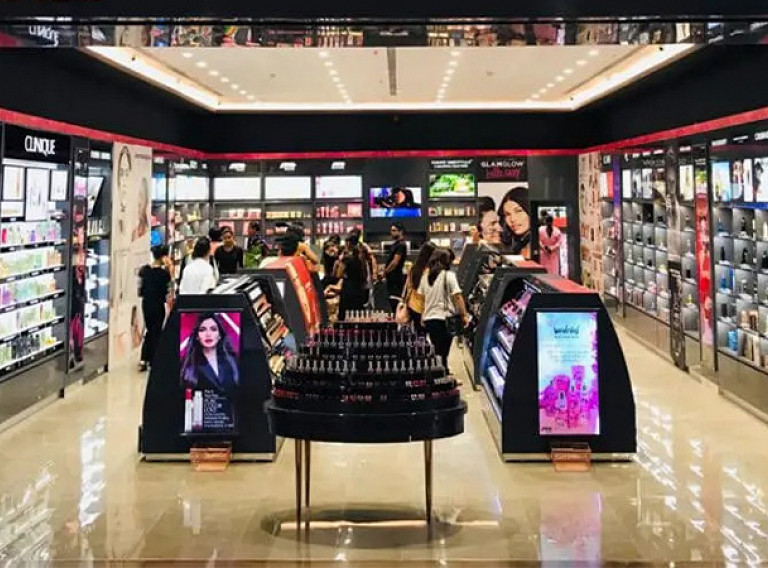 Direct-to-consumer brands in the beauty industry in India
There has been significant activity in the Indian beauty and personal care landscape over the past 12 months. According to a report by Avendus Capital, more than 800 DTC brands have been launched in India, including more than 80 in the beauty and personal care category. The number is expected to increase several times in the coming months.
Much like China, India has seen its consumers shift online accelerated by the pandemic, to the benefit of DTC beauty brands established over the past five years.
Beauty market snapshot by 2025 predicts around 900MM internet users and 500MM active social media users (52% of these Millennials and Gen Z), and a 4.8X increase in shoppers online beauty products in India, growing from 25MM in 2020 to 122MM+ in 2025.
Several factors have contributed to this growth, including a shift towards clean and environmentally friendly products, a growing concern for personal care that is driving demand for beauty and skincare brands, and social discovery phenomena. and education on the Internet.
Considering that 45% of beauty demand is in Tier 2 and 3 cities, the lack of retail infrastructure makes brand.com, marketplaces and beauty platforms the main channels to access these cities.
Indian DTC Marks vs American DTC Marks
In the US, DTC beauty brands are typically digital natives with social media touchpoints and come equipped with an explainable e-commerce/Shopify store. They used the power of influencer marketing and star power for their growth and to reach a larger target audience.
In India, the DTC brands that dominated the landscape launched with an online e-commerce presence, but also grew a retail footprint very quickly. For example, Sugar Cosmetics falls into the DTC category but is available at over 35,000 retail touchpoints (including own stores in major markets, exclusive brand outlets and kiosks in malls first-class, as well as a presence in major modern retail and general outlets). Sugar aims to reach the range of over 50,000 retail touchpoints in India and even internationally. DTC branded physical stores are embracing experiential elements in shopping and hosting "features and benefits" conversations between customers and sales staff, a step towards holistic, needs-based personalized solutions for their consumers.
Personalized, user-friendly and user-friendly solutions
D2C attracts and appeals to Indian consumers who are looking for personalized products that traditional big players did not serve. A great example can be found in the work of entrepreneurial couple Ghazal and Varun Alagh (founders of Mamaearth), who developed baby skin care products for the whole country while researching the do's and don'ts. what not to do when caring for their newborn's skin. Over time, their product line expanded as customer behavior began to shift towards skin and personal care.
Indian customers are used to sample products in store regarding choice of color, hue, quality, etc., to pursue and promote their purchasing decision, along with the behavior safer to order products online from a website. With the unprecedented but inevitable scale of digitization during the pandemic, the convenience of shopping online has increased like never before. Diagnosis and consultation of skin types, personalized solutions and virtual trial with VR integrations on e-commerce sites facilitate a seamless shopping experience.
The Indian customer has become "awakened" in every sense of the word. With heightened intelligence, he wants nothing less than what best suits his needs. In 2021 alone, internet search interests in India saw a 533% increase in "DTC brands" keywords. Seeking the convenience of personalized products, online shopping, cheaper smartphones and internet services, and growing awareness of natural/chemical-free products, buyer preference has shifted to DTC both online and offline.
With women making their buying decisions in social stores, the majority of DTC brands have begun to cater to women's needs with changes to their product formulas. It has been noticed that there is a significant increase in buyers of face masks, body scrubs and serums.
With proper marketing and lucid brand communication, the aspiration quotient of consumers has increased. Traditional industry players (Lakmé, Olay, etc.) maintain economically feasible pricing for consumers belonging only to Tier 1 cities in India. On the other hand, DTC brands have made efforts to market to customers in Tier 2 and 3 cities with offline presence, TV commercials, etc., and maintained friendly pricing with premium quality products.
Brands are increasing their efforts to retain female customers in Tier 2 cities, as they have noticed and valued the aspirational quotient of women in cities and towns, regardless of size. According to KPMG's latest report on beauty and personal care shopping, approximately 45% of all online transactions take place in Tier 2 and Tier 3 cities.
The best Indian D2C brands to watch out for are:
MyGlamm, dubbed "the fastest growing direct-to-consumer beauty brand in India". The philosophy behind MyGlamm is to build a community with its users, engage with them, and eventually co-create products with them. MyGlamm acquired POPxo & Plixxo in August 2020, laying the foundation for the largest Content to Community to Commerce platform in South Asia.
Nykaa, India's No.1 beauty retailer, launched its own line of private label beauty products in 2015. Nykaa Cosmetics is the brand's affordable makeup line; Nykaa has also launched its Nykaa Naturals line of shower gels, lotions, creams and oils. Nykaa recently launched a skincare line called SkinRX. Nykaa was funded by KKR, Steadview Capital, Lighthouse Capital and TPG, and opened its IPO on October 28, 2021.
WOW skin science is a nature-inspired beauty brand committed to providing safe skin and hair care products for everyone to use. Their products are free of sulfates, silicones, mineral oils, parabens and artificial colors. Over time, WOW Skin Science plans to build a strategic business and expand globally.
Mother, a brand, by parents, for parents. Its products are developed from world-class research and strive to solve all types of problems that parents face. Mamaearth aims to manufacture products that are suitable for mums and babies, which are toxin-free and comply with all strict international standards.
Cosmetic SUGAR is a cruelty-free brand that has high standards when it comes to using only the highest quality ingredients in their makeup products. The brand ensures that its cosmetics, produced in state-of-the-art facilities around the world, cater to all skin types with personalized solutions.
Corporatization and conglomerates happen in the digital space
In the interest of building brand reach and audience loyalty while also informing and entertaining them, brands began to proliferate into something bigger than a single brand and embraced a model of "house of brands" that caters to all consumer needs – from products and content, to content creators who promote products. It's like an all-digital conglomerate designed to have an unprecedented omnichannel-omnicategory presence.
Conglomerates including Mensa Brands, GOAT Brand Labs and The Good Glamm Group have shown progress in increasing D2C links and scaling them to get bigger.
Closing remarks: The DTC space in India is lucrative in all its vibrant shades. With the time consumers spend on the internet and their desire for unique products, the DTC brand model is a surefire way to establish themselves in a growing market.